How to Join Sligo Model Flying Club
Welcome to our club!
Everyone is welcome to join our Model Flying Club whether you are new to the sport or have previously been a member of another club.
Model flying is a sport and the intention is to have fun but it is not without risk. Flying model aircraft can be a danger to the pilot, bystanders, property and livestock. Therefore it is a requirement to have insurance cover and this is provided through membership of the Model Aeronautics Council of Ireland (MACI).
You must be a member of MACI to join Sligo MFC and vice versa. It is advisable to visit the MACI website at www.maci.ie to find more information on membership and model flying in Ireland.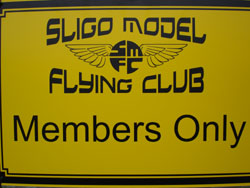 !!! A Polite Word of Warning !!!
Only Sligo MFC members may fly at our airfield. If you are not a member and enter the airfield without permission then you will be trespassing and breaking the law.
Sligo MFC will accept no responsibility for any injuries or damages occurring under such circumstances. All members carry MACI membership cards and the landowners will ask to see these.
On occasion a beginner has flown their new trainer aircraft on their own only to crash it promptly. The damage cost alone exceeds the cost of membership of the club and MACI. Please do not underestimate the complexity of flying model aircraft!
Fees
It costs Sligo MFC to maintain the airfield and to provide the necessary safety equipment and facilities. It is our aim to provide a first class model flying club and airfield.
We ask all members to pay a small annual fee to the club to help cover these costs. For adult membership (above 18 years old) the club and MACI fees for the year ending 31 March 2020 are as follows:
Sligo MFC - €50
MACI - €70

*** For new members to Sligo MFC the club fee is only €10 for the first year ***
There are reduced fees for juniors and family memberships. These are indicated on the membership forms. Note that there are also reductions if you join after September and again after December of every year. Please feel free to contact us if you would like fees confirmed.
Apply for Membership
To join the club you will need to fill out both Sligo MFC and MACI Membership Forms and hand it to the Club Treasurer with the relevant fees. Cheques should be made payable to "Sligo Model Flying Club."
Click on the links below to view the Membership Forms in Adobe PDF format:
Sligo MFC Membership Form 2019
MACI Membership Form 2019
You must also agree with the Club Constitution and Rules. Click on the links below to view these:
Sligo MFC Constitution 2019
Sligo MFC Club Rules 2019
If you are unable to view these documents then you may need to download and install the latest Adobe Reader on your computer. This is available for free from www.adobe.com
The Benefits of Membership
If you are new to model flying then we can offer you help in choosing and building your model. We can teach you how to fly your model safely by using a "buddy box" system.
This system connects the tutor and student transmitters together and allows your tutor to take control should you or they decide that the aircraft is in danger of losing control or crashing.
All our advice and tuition is free but is offered on the understanding that you too will offer it to beginners in the future.
Certification
Every member is encouraged to reach a level of ability required to take the MACI "A" and "B" tests. Successfully passing the "A" test allows you to fly in competitions and at any other MACI affiliated club airfield while the "B" test allows you to fly at public displays. Further information on these tests can be found on the MACI website here.
Have Fun!
Model flying is a very rewarding experience and being able to fly with others is great fun. So if you are a beginner let us show you how to get started with this great hobby!